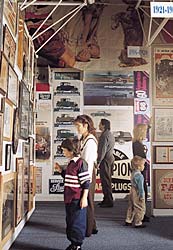 Cars are even in the air, visitors touring the galleries hear original radio advertisements and musical jingles for great cars. The museum is also on the move with video. Race footage, vintage television ads and historical documentaries run on a large screen, set on the back of a miniature truck.
The collection is displayed in a sleek new setting, measuring 12,000 square feet. Each of the two main galleries are filled right up to their 25-foot ceilings. So many of its displays are one-of-a-kind that any listing of the contents is a partial one, but you'll see fine art oil paintings, and drawings by American and European artists, folk-art models, rare advertising (including a set of legendary Burma-Shave roadside rhyming signs), original photographs, Detroit styling models, autographs and letters, racing memorabilia, dealership and roadside signs, humorous prints, toys galore, Hollywood movie posters, unusual auto accessories and gadgets, colorful pedal cars, showroom posters, and even several presidential-car license plates.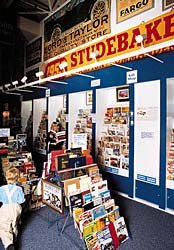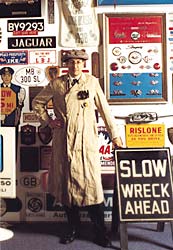 Outside, the museum literally stops traffic! The exterior is lined with an eye-popping set of 20 original full-color billboards (each one measuring 20 feet by 10 feet), long-lost ads for some of the greatest cars of the 1940's and 1950's. You won't see anything like them anywhere else.
Automobiles themselves don't mirror the people who used them as vividly as the items left behind by those people. The Museum of Automobile History reflects the monumental influence of the car, as well as an unbridled enthusiasm for the automobile. It is a memorable automobile trip and a dazzling display of the world on wheels, for everyone of all ages.